Uvita is a small town on the west coast of Costa Rica. However, a visit to this coastal town is a must if you're in the area. You'll find a number of unique activities and natural phenomena there. That's why we're sharing our favorite sights and activities in Uvita with you.
How to get to Uvita?
From the capital city San José, you can drive to Uvita in about 3.5 hours without any stops. You can take a scenic coastal road or an impressive mountain route. In the latter case, it will take you an additional half hour, but you'll still be driving on a highway.
So, you don't need a four-wheel drive to get to Uvita. However, it is recommended to rent a 4×4 because many routes to the beach are unpaved. Moreover, our hotel was located at the top of a steep road that could only be tackled with four-wheel drive.

Visit the beach shaped like a whale's tail
Sometimes you come across natural phenomena that require a lot of imagination. "That rock looks just like an elephant" or "that waterfall looks like a woman in a wedding dress." Maybe after having a few cocktails.
There's no doubt about the beach in Marino Ballena National Park. It truly resembles a whale's tail. And even though you can't see it from the shore, walking across it is incredibly cool. You'll have crystal-clear water on both sides.
If you plan to take a dip in the sea, leave your valuables at your hotel. According to reviews, Punta Uvita is not only popular with tourists but also with pickpockets who take advantage while you're swimming. We didn't encounter them, but it doesn't hurt to be extra vigilant.


Spot whales from a boat
The coast of Uvita is also known as Costa Ballena ("whale coast"). Not so much because of that whale tail-shaped beach, but because humpback whales love to visit here. These magnificent mammals are well protected, making Uvita the ideal place to spot whales in the wild.
You'll find several providers of special boat tours near the entrance of Marino Ballena National Park. Hop on a fast boat and head out to sea, hoping to encounter whales along the way. There are no guarantees since the humpback whales are not chased or coerced to appear.
The best chances of spotting whales are from December to March and from July to October. However, humpback whales can be seen outside of these months as well. We visited Uvita in January and were fortunate to see a mother with her baby. An unforgettable experience.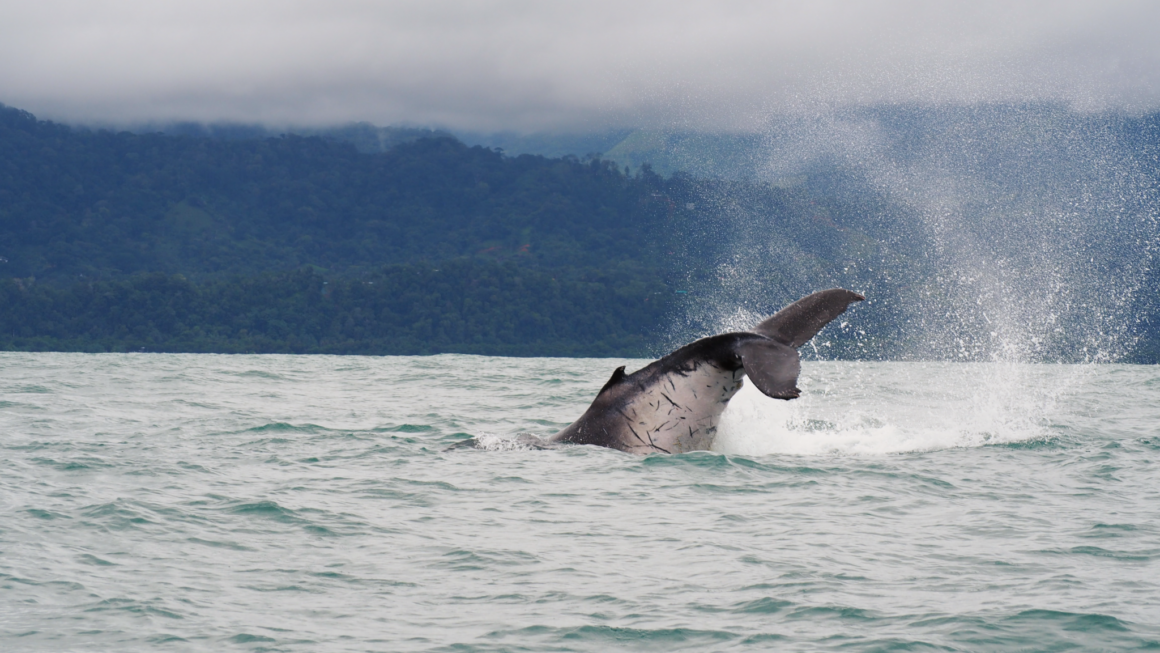 Order street food on the beach
Costa Ricans love the beach and delicious food. The combination of the two is absolutely perfect. So, it's not surprising to see colorful stalls selling street food on many beaches. Fresh fruits, shaved ice, and snacks with nacho chips are particularly popular.
One snack that we hesitantly ordered is ceviche. The raw fish is scooped out from a cooler box due to the lack of electricity. We chose a bag of nachos, and the marinated fish, along with cilantro and peppers, was added to it. The fish was incredibly tasty and fresh, as we were spared from any food poisoning.


Just outside Uvita, you'll find Playa Ventanas, a beautiful large beach. Don't be discouraged by the apparent crowd; if you walk a bit further, you'll have the whole place to yourself.
On this beach, not only did we order the delicious snacks we mentioned earlier, but we also discovered some extraordinary caves. You can find them in the rocks on the right side of the beach. When the sea is calm, you can venture quite far into the caves.
Since the road to this beach is unpaved, you can only reach it with a 4×4 vehicle. You'll have to pay a small fee for parking, unless the parking attendant is taking a nap.


Visit one of the waterfalls
A visit to a waterfall is always enjoyable, especially when you can cool off in the fresh, cascading water. So, put on your swimwear and water shoes because Uvita has several impressive waterfalls.
We start with Catarata Uvita, which is located right in the coastal town. As a result, it's also the busiest one. Adventurous souls slide down the waterfall or jump from a platform into the water. Bring some cash as there is a small entrance fee.
If you're more in the mood for relaxation than adventure, head to Cascada El Pavon. This waterfall is slightly outside of Uvita and is usually much quieter. The large rock that appears as if it could come crashing down at any moment is quite a sight.
The most spectacular waterfall in Uvita is undoubtedly Nauyaca. It requires some effort to reach as it's at the end of a challenging hike of several kilometers. It's a beautiful walk with an even more magnificent reward, but not everyone is up for it. Fortunately, you can arrange a ride with a jeep or horse for a few dollars.

The best place to stay in Uvita
In and around Uvita, you'll find plenty of hotels. We stayed for four nights at Villa Alturas, which is much more than just a hotel room. You actually have a complete villa with a kitchen, but they still prepare a delicious breakfast for you in the morning.
The hotel has a lovely swimming pool and offers stunning views of the sea. Villa Alturas is located just outside of Uvita, at the top of a steep dirt road. You definitely don't want to stay here without a four-wheel-drive vehicle. For us, it was an ideal base to explore Uvita and the surrounding area.