It's perhaps the number one activity in Costa Rica: wildlife spotting. With over 30 national parks and more than 50 nature reserves, there are plenty of places to see animals in their natural habitat. But even outside of these protected areas, you may unexpectedly come across native species. So keep your eyes open and enjoy the nature.
1. Sloth
The sloth is probably the most beloved resident of Costa Rica. Its graceful movements are fascinating, and its unabashed laziness is envy-inducing. Some might say you haven't truly experienced Costa Rica until you've seen a sloth.
Few people know that there are two different species of sloths in Costa Rica: the two-toed sloth and the three-toed sloth. As the names suggest, they can be distinguished by the number of "toes" (which are actually long claws) on each limb. Additionally, the three-toed sloth is hairier and primarily active during the daytime.
Where can you see sloths in Costa Rica?
Sloths prefer to hang out in the high treetops but come down to the ground to relieve themselves. You can encounter them anywhere in Costa Rica if you pay close attention. For example, we spotted them along the road in Puerto Viejo, but they are also commonly seen in Manuel Antonio National Park.

2. Toucan
Costa Rica is a true paradise for bird enthusiasts. And even if you're not one, you'll naturally come to appreciate the winged creatures. The most famous bird species in Costa Rica is the toucan, which is often used in company logos.
There are a total of six toucan species in Costa Rica, but the most well-known is undoubtedly the one with the large colorful beak. Specifically, the chestnut-mandibled toucan. Let's just call it by its name.
Where can you find toucans in Costa Rica?
The chestnut-mandibled toucan can be found in many different locations in Costa Rica. It prefers to reside near fruit trees, such as in Monteverde and along the east coast, stretching from Tortuguero to Puerto Viejo.

3. Capuchin Monkey
Don't be fooled by their cute appearance, as these monkeys with their distinctive white faces can be quite mischievous. Capuchin monkeys eat just about anything, so there might be something tasty in your backpack. Never leave it unattended near a group of capuchin monkeys.
Capuchin monkeys are not only intelligent but also highly social. They live in groups of up to thirty monkeys, so if you spot one, be sure to look around as its friends are likely nearby.
Where can you spot capuchin monkeys?
The chances of seeing these monkeys are quite high, as they can be found in many places in Costa Rica. They enjoy forests but are not too picky. You can see them in rainforests, dry forests, and the cloud forests of Monteverde.


4. Iguana
This impressive reptile is also known as the "tree chicken" among locals. For many Costa Ricans, the iguana is a tasty treat. However, iguanas themselves mainly eat tree leaves and not much else.
Iguanas are skilled at camouflage. When they're not eating, these cold-blooded reptiles are likely sunbathing inconspicuously. This sometimes makes them difficult to spot.
Where do iguanas live in Costa Rica?
Iguanas are usually found on tree branches in tropical forests. Since they enjoy the sun, you'll also find them near the beach. The tropical gardens of your hotel are also a suitable habitat for these scaled reptiles.

5. Raccoon
The most mischievous animal in Costa Rica is undoubtedly the raccoon. With its black and white face and pointed snout, it may look cute. Raccoons are primarily active at night, but in Costa Rica, you can also come across them during the day, especially in places where people gather, searching for unattended backpacks that may contain food.
Where can you find raccoons in Costa Rica?
Raccoons are adaptable creatures and can be found in many parts of Costa Rica. They prefer forested areas, particularly near water. You may also encounter them in coastal and mountainous regions. Raccoons are easily spotted in tourist areas because they know there's food to be found there.

6. Howler Monkey
The howler monkey lives up to its name by marking its territory with loud roars. Much more hygienic than how cats do it, if you ask us. These black monkeys start their noisy performance early in the morning and served as our alarm clock in Tortuguero.
Despite their deep and powerful calls, howler monkeys are quite adorable. Judging by the volume, we had expected a larger monkey. But that's probably their secret weapon.
Where can you spot howler monkeys in Costa Rica?
Howler monkeys can be found in various types of forests. We encountered them frequently in Tortuguero, but these monkeys are said to inhabit the higher elevated forests in the inland areas of Costa Rica as well.


7. Quetzal
According to experts, the quetzal is one of the most impressive birds in Costa Rica. They have a graceful long tail, vibrant colors, and mainly feed on wild avocados. We totally understand the latter.
Quetzals are rarely seen, so nature enthusiasts get extremely excited when one is spotted. You can imagine the commotion when our guide in the Monteverde Cloud Forest started pointing with excitement after spotting three of them. In no time, a huge crowd gathered around our binoculars.
Where does the quetzal live?
Quetzals inhabit cloud forests, which are abundant around Monteverde, for example. They are quite elusive, so a good pair of binoculars is essential. Unless you're an experienced birdwatcher, you're unlikely to see the quetzal without the help of a guide.


8. Coati
The coati, also known as a nose bear, bears some resemblance to the raccoon. However, its snout and tail are much longer. Coatis are social animals that often live in groups.
Coatis eat a variety of things, including insects, eggs, fruits, and nuts. They are usually not afraid of humans because we often carry food. When we parked our car for our ziplining adventure in Monteverde, we were greeted by a cheeky coati.
Where do coatis live in Costa Rica?
Similar to raccoons, you can encounter coatis throughout Costa Rica. They thrive in both cool mountainous areas and warm dry forests, as well as everything in between.

9. Humpback Whale
The largest creature on our list of impressive animals in Costa Rica. The humpback whale can reach lengths of 12 to 16 meters and weighs an astonishing 25,000 to 30,000 kilograms. It gets its name from the small hump on its dorsal fin.
Humpback whales can be seen year-round off the coast of Costa Rica. However, the best chances of spotting them are from December to March and between July and October.
Where can you find humpback whales in Costa Rica?
Humpback whales are often spotted off the coast of Uvita, which is also known as Costa Ballena or the "whale coast." Taking special boat tours increases your chances of witnessing these magnificent creatures up close.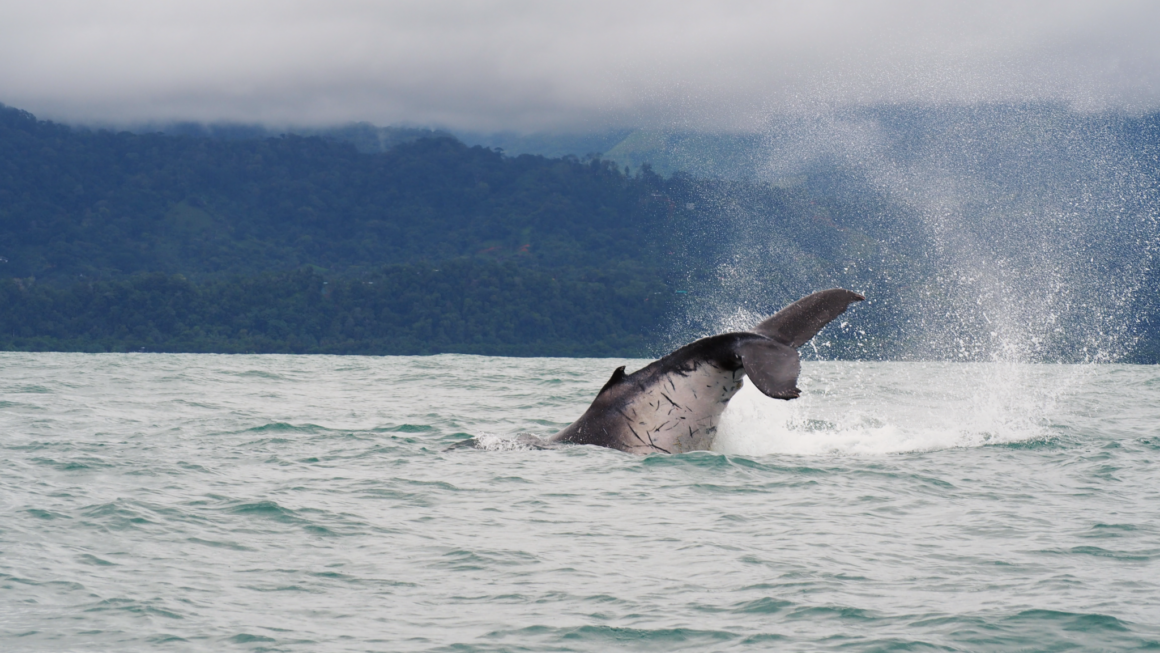 10. Jesus Christ Lizard
Also known as the basilisk lizard, the Jesus Christ Lizard has a more fitting name. This reptile can walk on water, or rather, run on water, as it can reach speeds of up to 12 km/h.
The Jesus Christ Lizard primarily hunts insects and small fish, and its remarkable speed allows it to cover considerable distances. It effortlessly traverses rivers spanning several meters.
Where can you see the Jesus Christ Lizard?
These lizards inhabit areas near water. You can find them mainly in lowland rainforests, such as the Osa Peninsula and Tortuguero. Spotting the Jesus Christ Lizard can be challenging as it blends well with its surroundings and spends most of its time quietly waiting for prey.

11. Tapir
It may not be the most visually appealing animal in Costa Rica, but the tapir plays a crucial role in the ecosystem. It primarily feeds on fruits, making it an important seed disperser in the forests of Costa Rica.
With its elongated mouth, reminiscent of an elephant's trunk, the tapir can easily pick up its food.
Where do tapirs live in Costa Rica?
Tapirs are frequently spotted in Corcovado National Park and the Monteverde Cloud Forest. However, we also encountered one during our boat trip to Tortuguero.

12. Red-eyed Tree Frog
This colorful little frog is one of the most well-known frogs in the world, second only to Kermit. It has a bright green back and head, a white belly, and striking red eyes. Its toes are orange, and blue and yellow stripes run along its legs.
While these colors are visually stunning, they serve a specific purpose. With its eyes closed, the red-eyed tree frog blends into its green environment. If it's spotted by prey, the frog opens its bright red eyes, creating a dazzling effect that startles potential threats and buys the frog enough time to escape.
Where can you find the red-eyed tree frog?
The red-eyed tree frog can be found in almost all of Costa Rica's rainforests. It is a nocturnal creature that sleeps under leaves during the day. If you want to see this extraordinary frog in the wild, you'll need to venture out at night with a guide.


What is your favorite animal in Costa Rica?
With over 500,000 species (although 300,000 of them are insects), this list is by no means comprehensive. We'd love to hear about your favorite inhabitant of Costa Rica. It can be one of the animals mentioned above, or even better, if it's a species not yet mentioned in this article. Feel free to leave a comment below.