You're looking for a beautiful hotel in Costa Rica. Understandable! After a day full of adventure, you want to unwind in a comfortable bed, so you can wake up refreshed and make the most out of your vacation. In our opinion, a hotel is more than just a cozy bed. That's why we have compiled a list of the most beautiful hotels in Costa Rica.
1. Chira Glamping Monteverde
Technically speaking, Chira Glamping is not a hotel but a tent. An extremely luxurious tent, though. It comes with its own bathroom, outdoor kitchen, and personal assistant. The personal assistant is ideal for making reservations for excursions and restaurants.
This delightful accommodation is located right in the cloud forests of Monteverde, offering a fantastic view from your terrace. Moreover, there are plenty of activities to enjoy in the surrounding area. Adventurers can go zip-lining, while nature enthusiasts can book guided hikes.
We're not exactly camping enthusiasts, but our nights at Chira Glamping Monteverde were amazing. Thanks to all the luxury and privacy, it doesn't feel like camping at all. Yet, you're still sleeping in the heart of nature. We still don't know which animal woke us up during the night…



2. Tortuga Lodge & Gardens * * * *
A visit to Tortuguero is a must, even though it takes quite an effort to get there. This stunning natural area can only be reached by boat or small plane. The same goes for Tortuga Lodge & Gardens, which is located near the nature park.
To be honest, initially we were a bit disappointed with our room. No air conditioning, just screens on the windows. The bed was quite small and the bathroom simple. We were a bit let down because staying here is quite expensive.
However, it didn't take long for us to appreciate the simplicity. In the evenings, it's wonderfully quiet, and you can only hear the sounds of nature. The next morning, we were even awakened by the roar of a group of howler monkeys. The pool – where they serve excellent cocktails – and the waterfront restaurant complete the stay.


3. Lost Iguana Resort and Spa * * * *
At the foot of the Arenal Volcano, you'll find Lost Iguana Resort and Spa. Don't be fooled by the word "Resort," because this place definitely doesn't feel crowded. The hotel rooms are spread out across a large tropical garden.
Our room is quite spacious, and from the balcony, we have a view of the volcano. If desired, you can enjoy the view from the jacuzzi, although not all rooms have one. If you book a more affordable room, you can still relax by the hotel's pool. Treat yourself to a delicious cocktail ordered from the poolside bar.
Lost Iguana Resort and Spa is the perfect base for various activities. In the vicinity, you'll not only find Arenal National Park but also have the opportunity to go zip-lining and take a walk on hanging bridges.


4. Buena Vista Beach Villas
Buena Vista Beach Villas is a small hotel located within walking distance of the popular Manuel Antonio National Park. The rooms are modern and spotlessly clean, although not particularly extraordinary. However, that's not necessary because this hotel has one major advantage: its location.
You can practically crawl to the beach from your room at Buena Vista. By the way, the hotel's beach bar serves excellent cocktails, a variety of lunch options, and great snacks. Combined with the friendly staff, it makes for a delightful place to unwind and relax.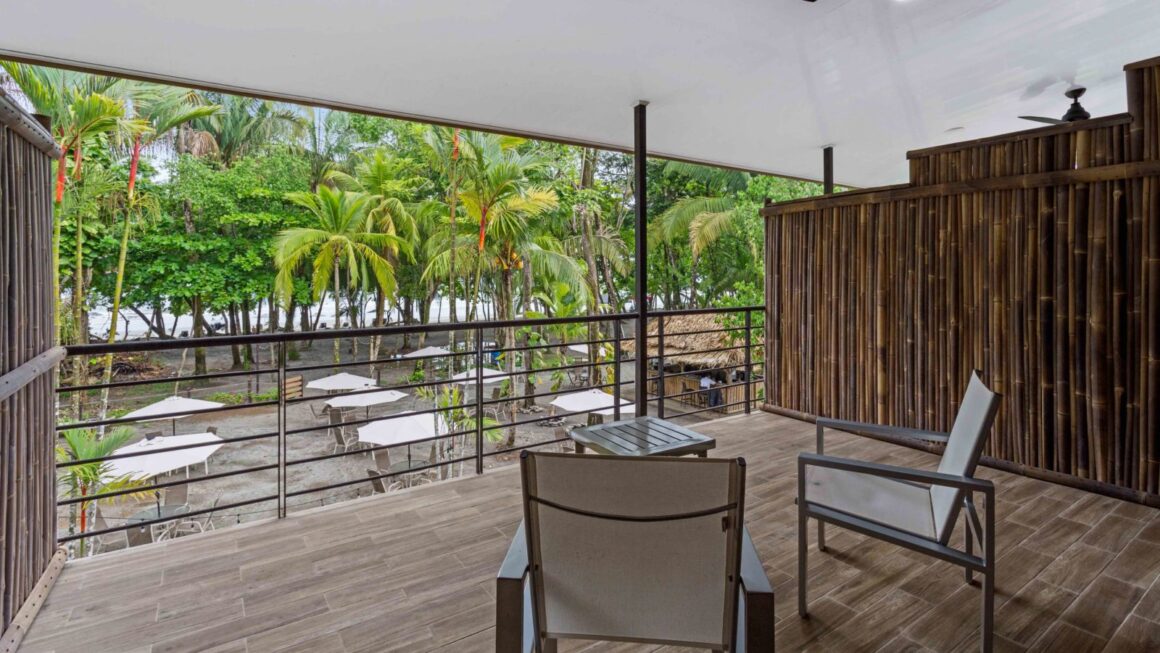 5. Umami Hotel Garden & Spa * * * * *
The stylish Umami Hotel Garden & Spa is located on the outskirts of Puerto Viejo. Its location is ideal because it allows you to enjoy the vibrant nightlife of the town without being disturbed in the evenings. At the same time, the beach and town center are within walking distance, as Puerto Viejo is not very large.
Umami Hotel is stunning. With only a few rooms, a nice pool, and a great breakfast, the hotel offers a beautiful ambiance. The relaxed atmosphere is further enhanced by the fact that young children are not allowed, making it a perfect place to unwind in the sometimes hectic Puerto Viejo.


6. Villas Alturas * * *
Villas Alturas can't exactly be called a hotel. Here, you'll be staying in a complete villa, including your own kitchen and a veranda with a sea view. You don't even have to worry about making breakfast because they serve it à la carte by the pool. Perfect!
This accommodation is located near Uvita, a part of Costa Rica that is definitely worth a visit. Here, you'll find beautiful beaches, waterfalls, and the opportunity to spot whales. Within walking distance from the villas, you'll find the Alturas Wildlife Sanctuary. It is a place where injured animals are taken in to recover until they can be released back into the wild.
If you book this hotel, make sure you have a four-wheel-drive car. Villas Alturas is situated at the top of a steep dirt road that is only suitable for 4×4 vehicles.


What is your favorite hotel in Costa Rica?
We conducted thorough research before booking our hotels in Costa Rica. The hotels mentioned above are definitely worth a stay in our opinion. However, this overview is quite subjective. That's why we're curious to know what you think is the best hotel in Costa Rica. Feel free to leave a comment below.