Costa Rica, quite literally translating to "rich coast," lives up to its name when it comes to its stunning coastline. With two different coastlines, the country boasts countless paradisiacal beaches, often adorned with tall palm trees, golden sand, and crystal-clear waters. Since it's impossible to visit all the beaches, we are here to share the 7 most beautiful beaches in Costa Rica with you.
Beaches on the East Coast of Costa Rica
Ranking the beaches based on their beauty is a difficult task, as each beach has its own unique advantages and drawbacks. That's why we'll start with our favorite beaches on the east coast of Costa Rica, where you can swim in the Caribbean Sea.

1. Playa Chiquita
Located near Puerto Viejo de Talamanca, the well-hidden Playa Chiquita is a tranquil beach with crystal-clear water. You can enjoy sunbathing here, as the overhanging palm trees provide ample shade.
While you'll often see surfers off the coast of Playa Chiquita, it's also a great spot for a refreshing swim. Just be cautious of large rocks that can be found in the surf in some areas.
By the way, there are more beautiful beaches in the vicinity of Puerto Viejo. Some beaches that didn't make it to this list but are definitely worth a visit if you're in the area include Playa Cocles, Playa Blanca, and Playa Punta Uva.
2. Playa Gandoca

Playa Gandoca may not initially appear as a paradisiacal beach, but it deserves a spot on this list of the most beautiful beaches in Costa Rica. The jet-black sand makes it an impressive beach.
Furthermore, Playa Gandoca seems to stretch endlessly. If you look closely, you might even catch a glimpse of Panama, as the border is just a few kilometers away.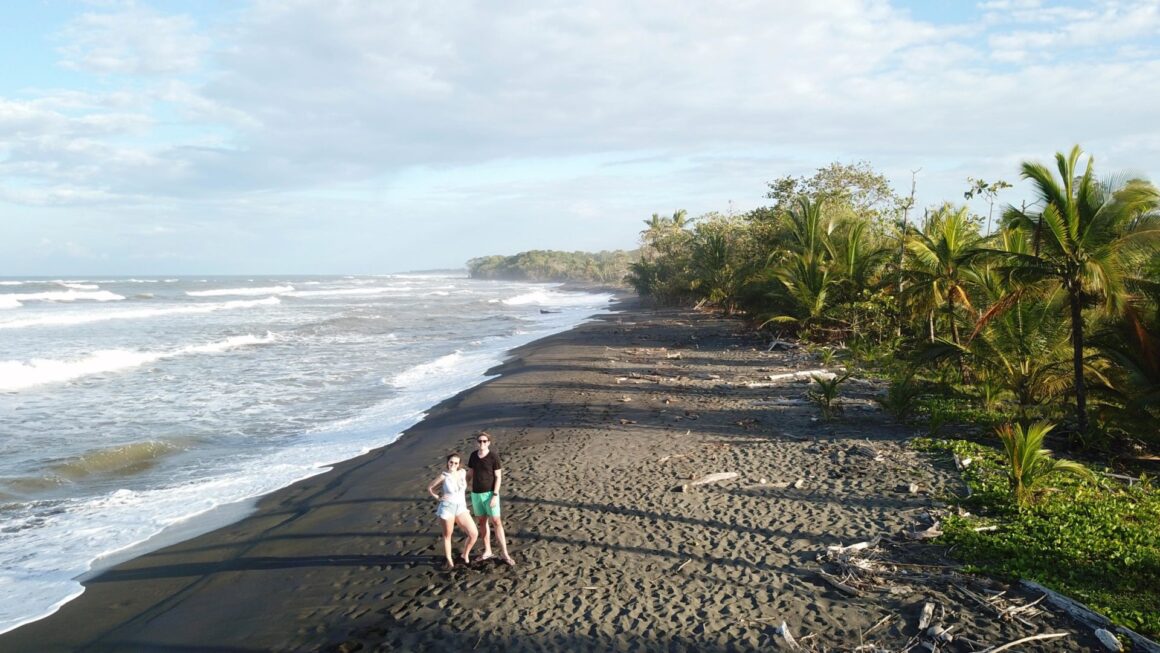 3. Playa Conchal
The elongated Playa Conchal has everything you would expect from a dream beach. The white sand is scattered with seashells, and the water here is azure blue. While palm trees may be absent, they are replaced by vibrant green mangroves.
Don't forget to bring your snorkeling gear, as the underwater life around Playa Conchal is stunning. Despite this beach being located near a luxury resort, it is usually surprisingly peaceful.

4. Playa Espadilla
Playa Espadilla is likely the most popular beach in Costa Rica. If you're looking for tranquility, this may not be the ideal spot, but it's still a delightful place to unwind. Order a cocktail at a beach bar or have one of the beach vendors open a coconut for you.
We spent two nights at Buena Vista Beach Villas, located right on Playa Espadilla. The beach stretches all the way to the bustling Manuel Antonio National Park, and you can witness a beautiful sunset in the evenings.


5. Playa Escondido
If you're looking for a nice beach near Manuel Antonio but find Playa Espadilla a bit too crowded, you should visit Playa Escondido. It's a wonderfully peaceful bay where you rarely see tourists.
It's not surprising since the beach can only be reached by boat or through an adventurous hike through Manuel Antonio National Park. If you choose the latter option, follow the signs in the park to reach Playa Puerto Escondido.

6. Punta Uvita
The beach of Marino Ballena National Park is impressive for multiple reasons. Firstly, Punta Uvita has the shape of a whale's tail, which looks fantastic from the air. However, it's equally remarkable to walk on the golden-brown sand with the sea on both sides.
But what happens in that sea is perhaps even more magnificent. You can spot whales excellently off the coast of Uvita. The humpback whale frequently visits here for mating, and with special boat tours, you have a reasonable chance of seeing them in the wild. Absolutely breathtaking!


7. Playa Ventanas
Playa Ventanas is also located near Uvita. It's a wide beach with impressive rock formations. When you first visit the beach, it may feel a bit touristy. You can order street food, and people are sunbathing on beach beds.
If you're looking for a bit more tranquility, take a walk towards the tall rocks. There are hardly any tourists there, and you can also find a peaceful spot to relax.
Warning
The west coast of Costa Rica, in particular, is known for its strong currents. Be cautious when entering the water, never swim alone, and avoid going too deep. Additionally, the waves can unexpectedly become high, which may result in the unfortunate loss of an expensive pair of sunglasses. (We speak from experience.)
Furthermore, keep an eye on your valuables. Many beaches are frequented by bold monkeys and raccoons. These wild animals are incredibly cute but rarely afraid of humans. With a stroke of bad luck, they might snatch your entire bag and disappear into the jungle.


What is your favorite beach in Costa Rica?
With two kilometers of coastline, Costa Rica is undoubtedly home to many more stunning beaches. This overview is highly subjective and by no means exhaustive. Do you know of a beautiful beach in Costa Rica that people should visit? Please let us know by leaving a comment below.