Our boat gently floats off the coast of Uvita. The humpback whales could surface at any moment. Our guide is certain, but we've been scanning the sea for a while. Then suddenly, a whale emerges, right next to our boat. "That's a baby whale!" Shortly after, a larger one appears. "And there's its mother." We can guarantee that whale watching in Costa Rica is an unforgettable adventure.
When can you see whales in Costa Rica?
Whale populations stay off the coast of Costa Rica twice a year:
From late December to late March
From late July to late October
During the latter period, the whales come to breed. So, there's a good chance you'll see a mother with her baby during that time. However, it's also possible if you visit Costa Rica in the spring. We visited the country in January and were fortunate enough to witness a mother whale with her calf.
Spotting Humpback Whales
The whales you can spot in Costa Rica are humpback whales. These baleen whales can reach lengths of 12 to 16 meters and weigh around 25 to 30 thousand kilograms. The humpback gets its name from the small hump on its dorsal fin. If you listen closely, you can hear this whale "sing."
The best place for whale watching
The coastal town of Uvita is one of the best spots to see the humpback whale. Moreover, you'll find the beautiful Marino Ballena National Park here. "Marino Ballena" means "whale" in Spanish, so you know you're in the right place.
or four nights. It's just a fifteen-minute drive from our accommodation to the national park. We buy tickets for a boat tour scheduled for the following day.
Armed Robberies
Occasionally, there have been reports of stolen belongings in Marino Ballena National Park. Some tourists even mention armed robberies. Therefore, bring as few belongings as possible and don't leave valuables unattended on the beach.

Boat Excursion
We park our car for a few dollars near the entrance of the National Park and check in with the tour operator. We left the drone at the villa because the image of masked men with machetes was starting to bother us.
A friendly guide takes us to the boat. As we stroll beneath the palm trees along a golden sandy beach, he enthusiastically explains why they call this place the "Orange Machine." It's all related to the Dutch national football team and his passion for soccer. Then the guide switches to his other passion: humpback whales.
These majestic creatures are well-protected in this natural area. Our guide can't guarantee that we'll see humpback whales today, but the chances are high, he assures us. By treating the animals with respect and avoiding any disturbances, they learn that the boats here pose no danger.

The Whales Come to Us
Our boat stops in the middle of the sea, and the captain turns off the engine. The instruction is to keep a close watch on the water. Everyone on the boat strains their eyes. Is that a glimpse of a fin in the distance or just a wave?
Then suddenly, a humpback emerges—right next to our boat. We only see a small part of the mammal as it surfaces to breathe. It's a baby whale, likely assisted by its mother. Shortly after, the mother appears as well—much larger and even more impressive. Gracefully, she slaps her tail fin against the water's surface.
From that moment on, according to our guide, it's a matter of counting. The calf needs to breathe at regular intervals, so we can make a fairly accurate estimate of when they will resurface. The only question is how long the mother will allow us to witness this spectacle.
Quite a while! The humpbacks seem completely unbothered by our boat, which sometimes rocks wildly. We also seem to be witnessing a lesson in "tail-fin slapping." Each time the young whale surfaces, it tries to vigorously smack its fin against the water, although it's not quite successful yet. We believe we see some progress, though.
Snorkeling Around Whales
When the humpbacks eventually move away, we continue our boat tour towards a popular snorkeling spot. The water there is beautifully clear, and it feels like snorkeling among the whales. Well, that might be a bit misleading because we don't actually see any humpbacks, but we can hear their songs underwater.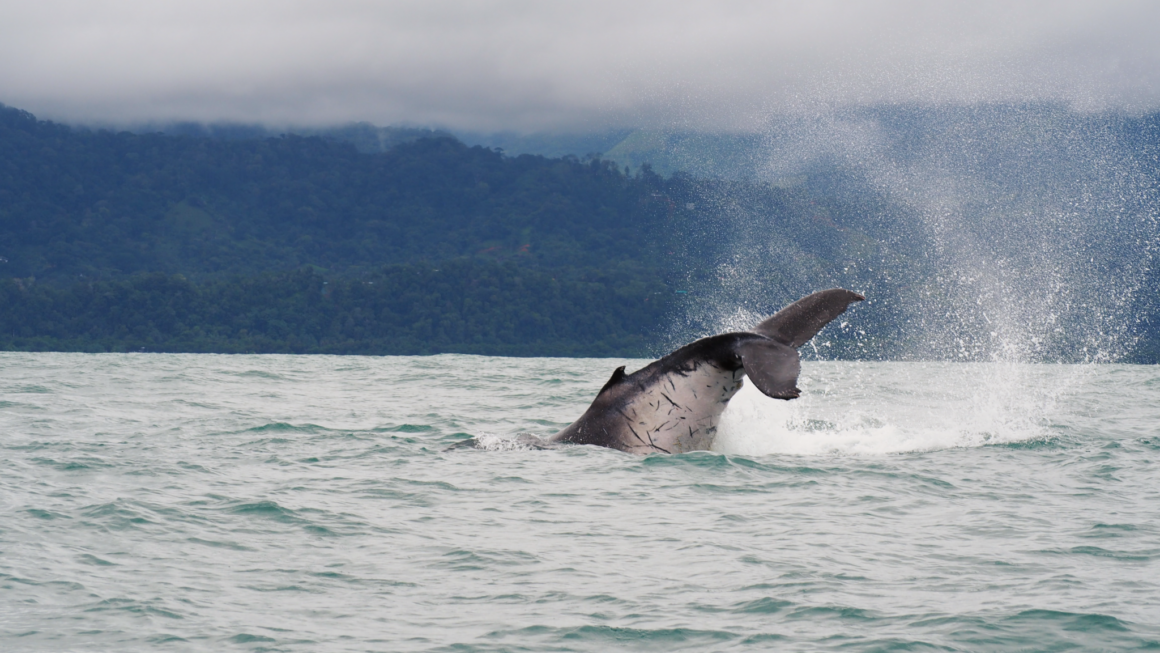 Beach Shaped Like a Whale Fin
At the end of the excursion, we get to choose where we want to be dropped off. At the entrance of the National Park or—more excitingly—at a very special beach. Marino Ballena National Park is known for its beach shaped like a whale's fin.
Our guide finds this natural phenomenon almost too coincidental. "It's remarkable that the humpbacks choose this exact spot for mating." From the beach, you can't quite see the resemblance to a tail fin, but it's still extraordinary to walk here. Especially when you consider that this massive sandbank disappears into the sea at high tide.
We thank our guide and captain, take a swim, and walk between the two shores towards the entrance of the nature reserve. Before heading back to our villa, we order a quick snack and enjoy some refreshing cold pineapple juice.


Our Favorite Hotel in Uvita
We stay for four nights at Villa Alturas, which shouldn't really be called a hotel. It's actually a complete villa with its own kitchen and a delightful veranda where you can gaze over the sea, preferably from a hammock.
In the morning, you don't have to worry about cooking because they serve a delicious local breakfast by the pool. (And cocktails, but it's better to save those for the afternoon.) The hotel is a 15-minute drive from Uvita, and a four-wheel-drive vehicle is a must because the access road to the hotel is quite adventurous.