The wine region of Alsace is located in the east of France. It's a relatively small area, which can be explored within a few days by car. The Alsace is known for its fresh white wines but is also starting to produce an increasing volume sparkling wines. In this article, we share practical tips, so you can enjoy a wonderful wine tour of the Alsace.
The Ideal Route through the Alsace
The Alsace begins roughly at Strasbourg and then runs down as a narrow strip. The wine area ends approximately around the town of Mulhouse. Between those two fairly large cities you'll find elongated wine fields and small villages where wine is sold.
We start our wine journey in the south of the Alsace. In Rouffach, to be precise. There, we overnight in our first chateau, after which we drive on to the second chateau, in the town of Barr. Our journey ends in Strasbourg, where we also spend one night.
In total we spend around four days in Alsace. Undoubtedly you can enjoy yourself for longer, but we feel it's a good duration for this tour. The various little villages are very similar and after visiting four different wineries, it's easy to anticipate how the fifth tasting will go.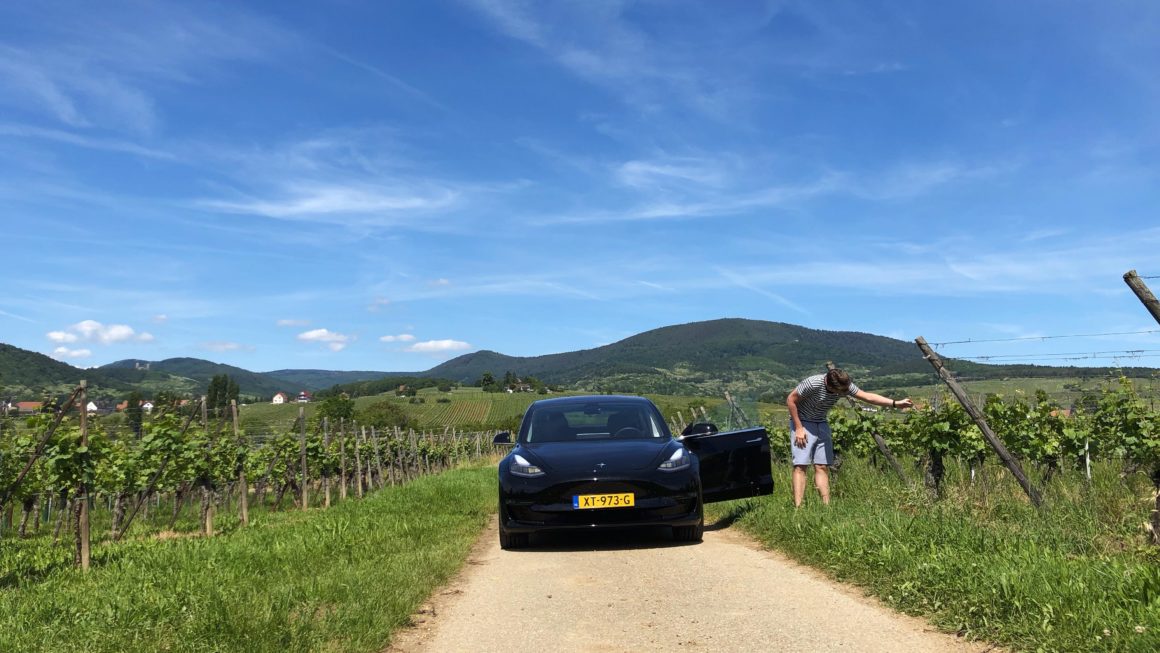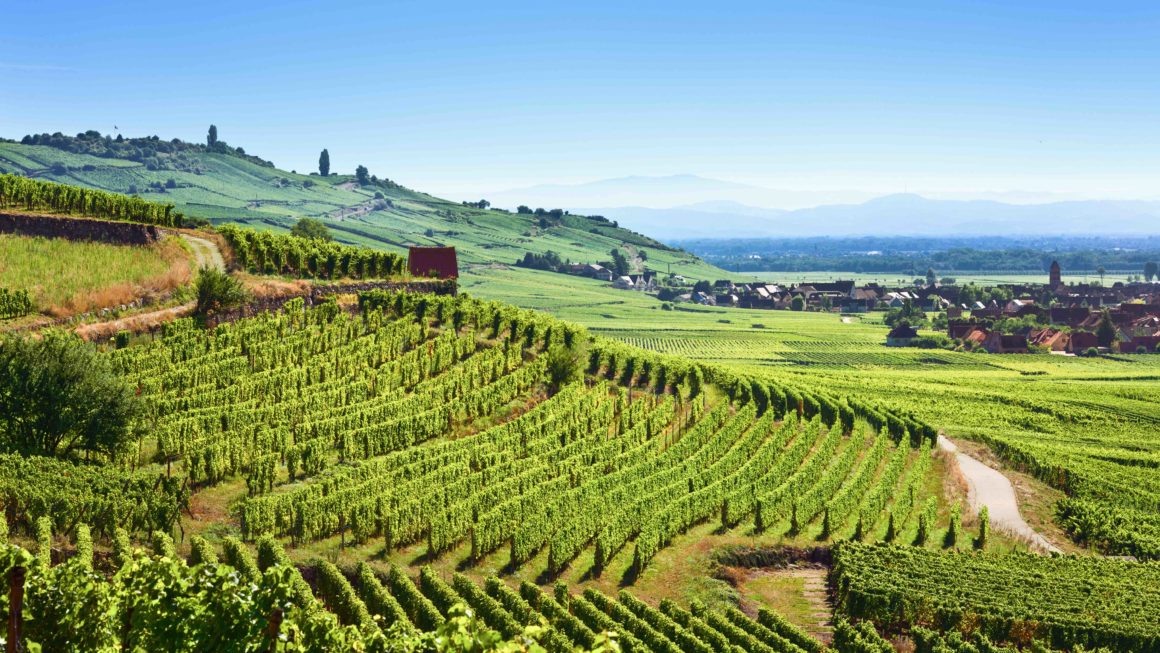 Can you drive a Tesla to the Alsace?
This will be our first extended ride with a Tesla Model 3. That's pretty exciting because it's a 600-kilometre drive to the south of the Alsace. If you don't have an electric car, you can skip the next two paragraphs without any concern.
The Model 3 has a range of about 500 kilometres, but on the highway, you'll notice that the battery will drain much faster. Especially when you hit the gas pedal in Germany. In theory, we only have to supercharge once along the way, but the charge would take about 50 minutes. We don't really feel like doing it for so long.
That's why we decide to have two shorter stops. After two hours of driving, you'll want to have a drink and stretch your legs anyway. Along the highway, there are plenty of Tesla Superchargers, often next to a McDonald's or other restaurant. In this way, we arrive in the Alsace without any unpleasantries. Our first hotel also has a Tesla Destination Charger, which we can use free of charge. Perfect!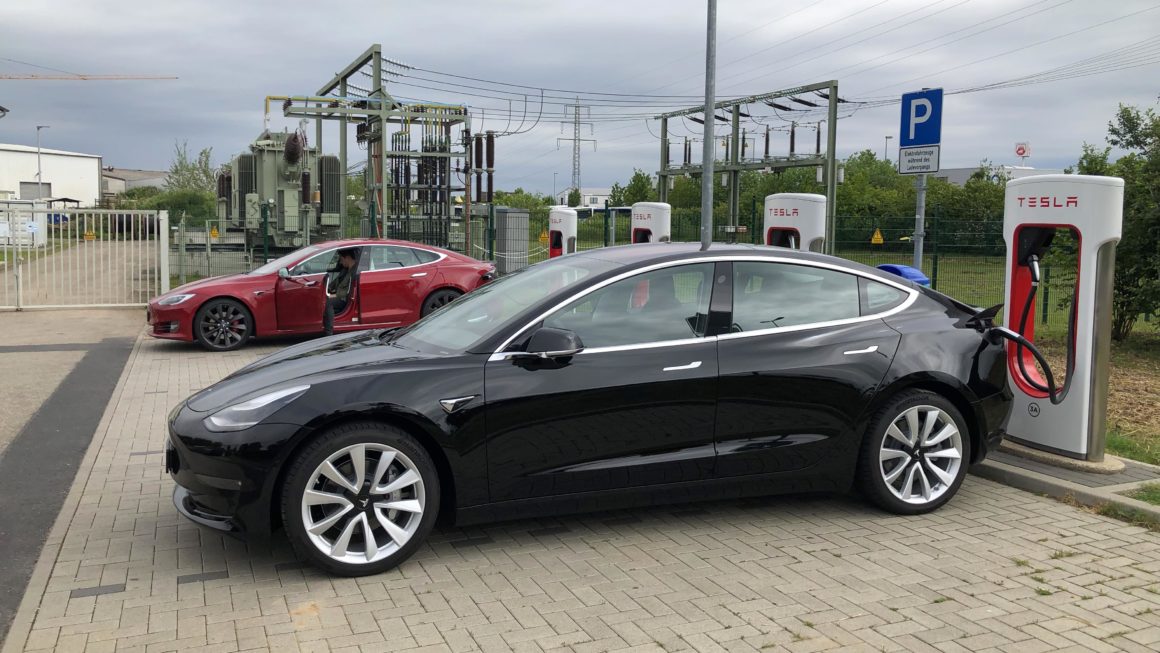 Chateau d'Isenbourg in Rouffach
As we enter Rouffach, we see a sleepy village where we start to see the first typical Alsace-style houses: pastel-coloured with dark wooden beams decorating the façades, with opened wooden shutters. A medieval castle rises out form all the other buildings. It's Chateau d'Isenbourg, where we're going to sleep tonight.
Could our room be in one of the towers, overlooking the vineyards that surround the castle? No, we're sleeping in a separate building opposite the chateau where we have a view of the access road. A bit of a bummer, but we come here mostly for the wine.
Not much later we let the first glasses of Crémant d'Alsace arrive. It's a sparkling white wine, made from grapes grown in Alsace. The preparation method is similar to that of champagne. The Alsatian crémant – after champagne – is the most popular and most-consumed sparkling wine in France. The gentle sunshine and view of the Rouffach vines probably make this glass taste just a tad more delicious.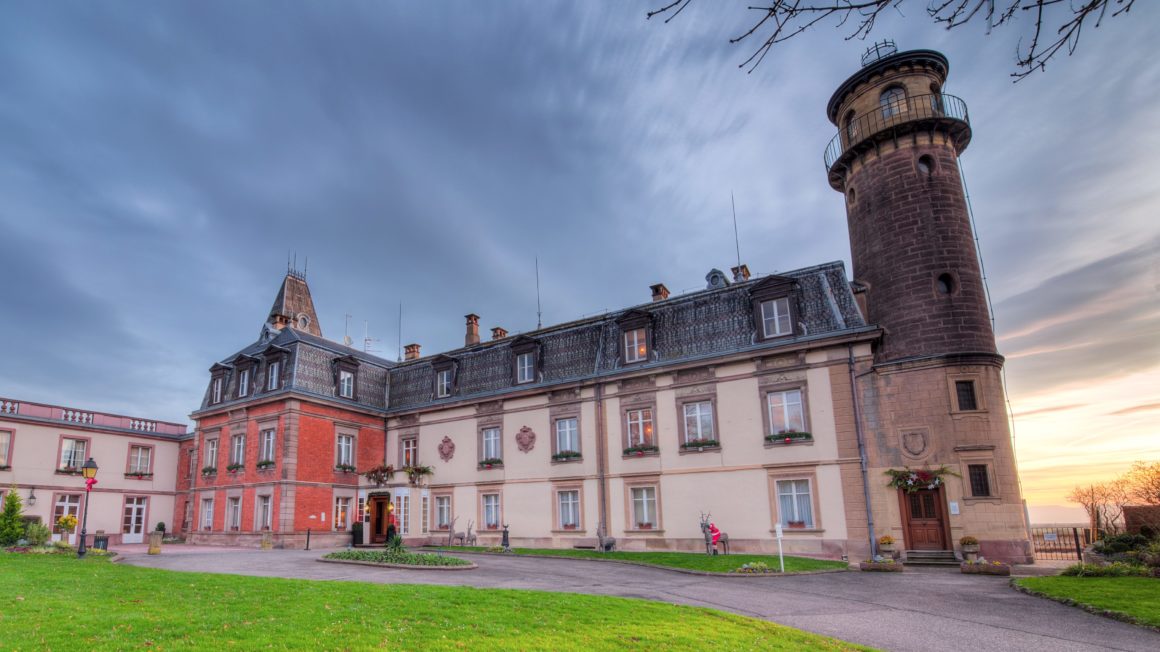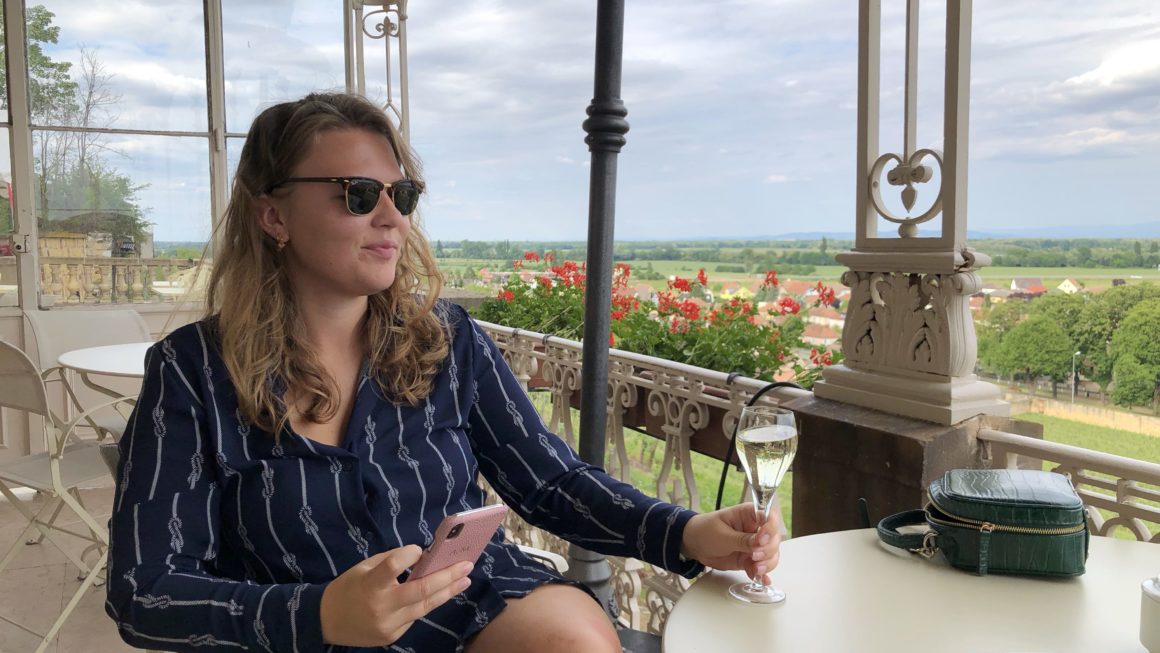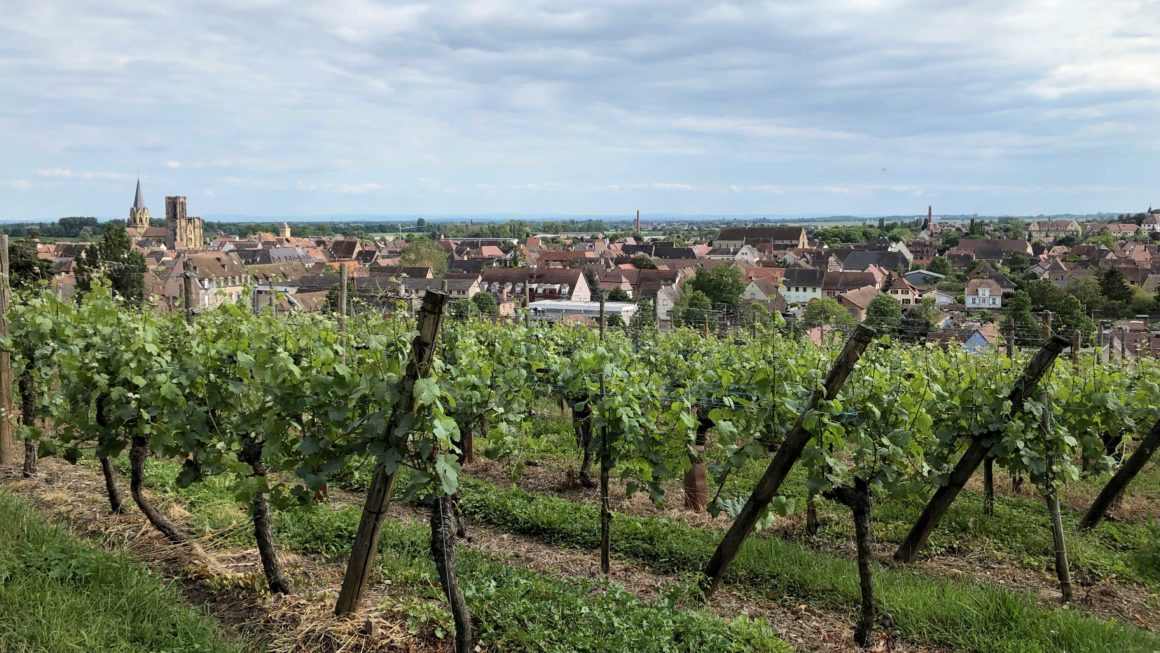 Cycling through the vineyards of Alsace
The Chateau d'Isenbourg breakfast of is especially luxurious. We start the day with a glass of semi-sweet Riesling. The breakfast terrace is the same space where dinner was served the night before. Classic French, not exceptional quality, yet pricey. But the matching wines make up for it.
"Electric or regular bikes?" the receptionist asks. It's for visiting wineries. We bravely we set off on mountain bikes. By the way, we're allowed to borrow them for free, but we soon understand why most guests prefer to rent the electric bikes.
Alsace is rather hilly. Nevertheless, it is worthwhile taking the special cycle route for a day – or at least part of it. After about ten minutes we arrive at the first winery: Domaine Rieflé, at the hotel's recommendation. There they only make organic wines, and people who don't have access to the labour market help to pick the vines.
When we ask if it's possible to taste some wines, bottles and tasting glasses brought out in a flash. It's free and you don't need to book. Please note that most wineries close in the afternoon and are open on weekends by appointment only.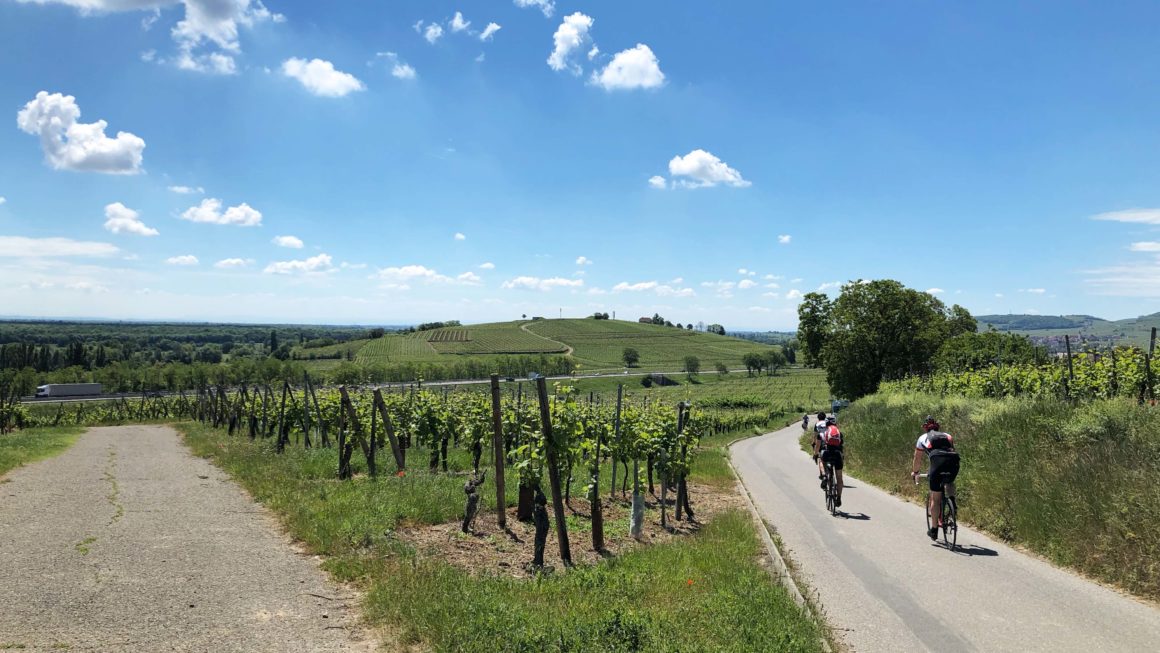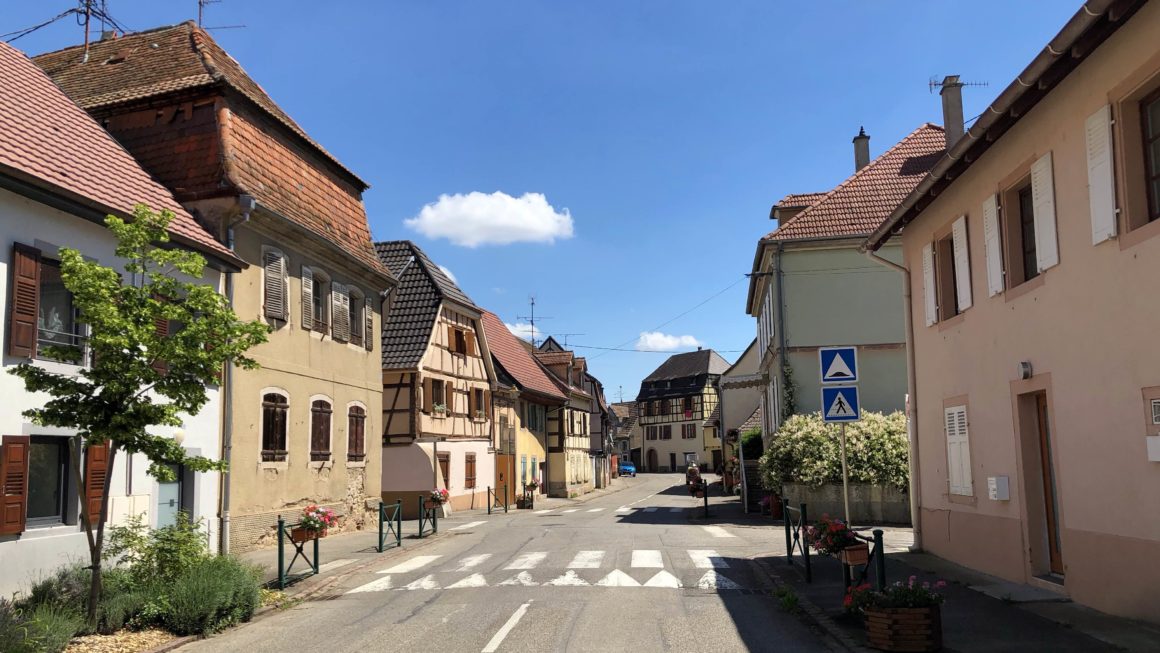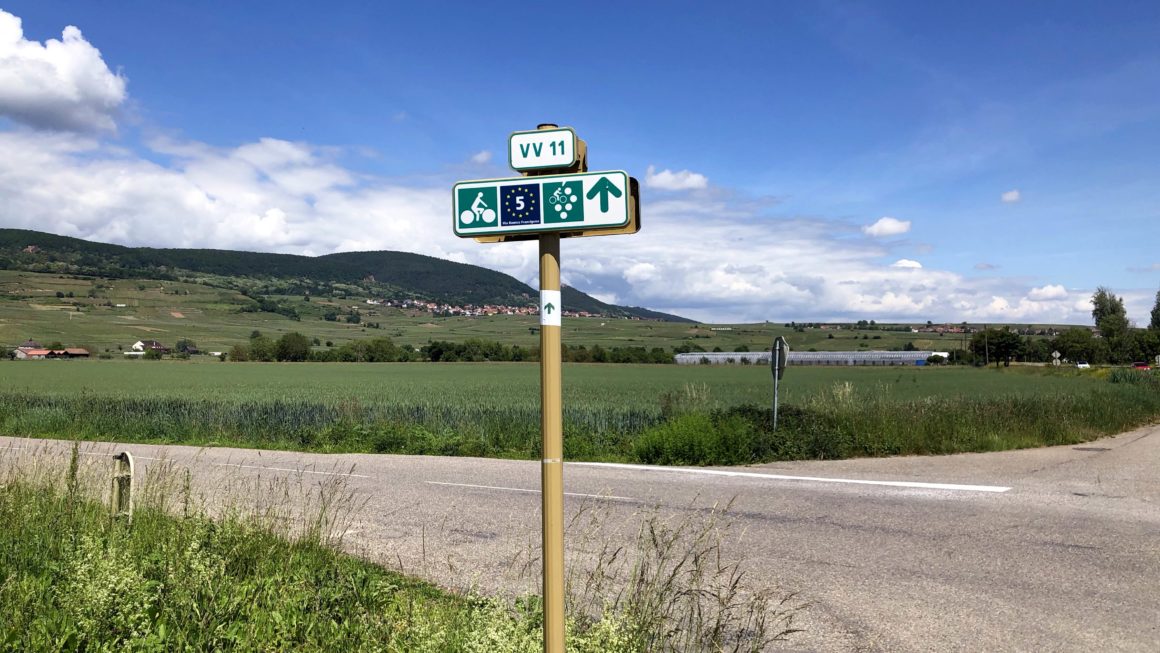 Tarte flambée in Eguisheim
We continue our cycling tour in the direction of Eguisheim. That's about 40 minutes by bike from Domaine Rieflé and is a lot more touristic than the picturesque – but mostly extinct – villages we pass along the way.
There we pop down on a terrace and order a Tarte Flambée, which is actually just a flammkuchen. The thin base of bread dough, topping with crème fraîche, bacon and onion is a speciality in Alsace and is traditionally eaten with (how could it be otherwise) a glass of wine.
Walking through Eguisheim is like walking through Disneyland. The cute houses, small delicatessen shops and special statues give the place a fairytale atmosphere. It's probably why it's so touristy here. There's even a small train running around – and it's full of adults.
You will find many wineries here and we visit Gruss, because it gets good reviews. A small downside: we suddenly have to pay one euro per wine. Perhaps it's because a lot of the tourists take advantage of the wine-tasting? The glasses are bigger though, and free of charge if you buy at least six bottles.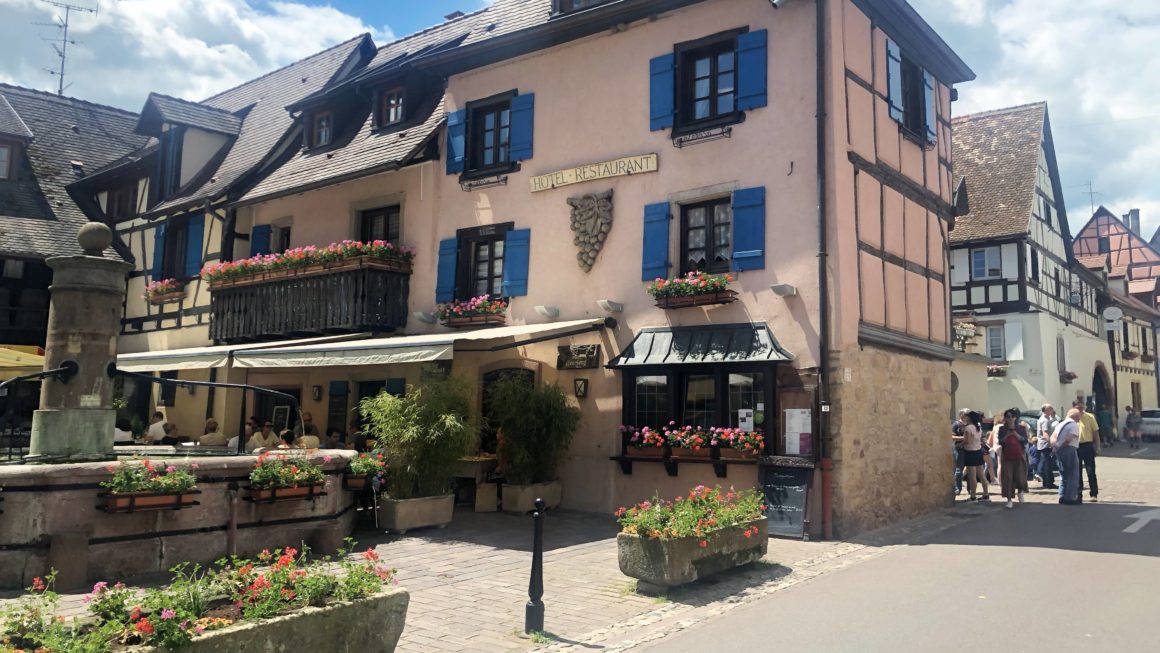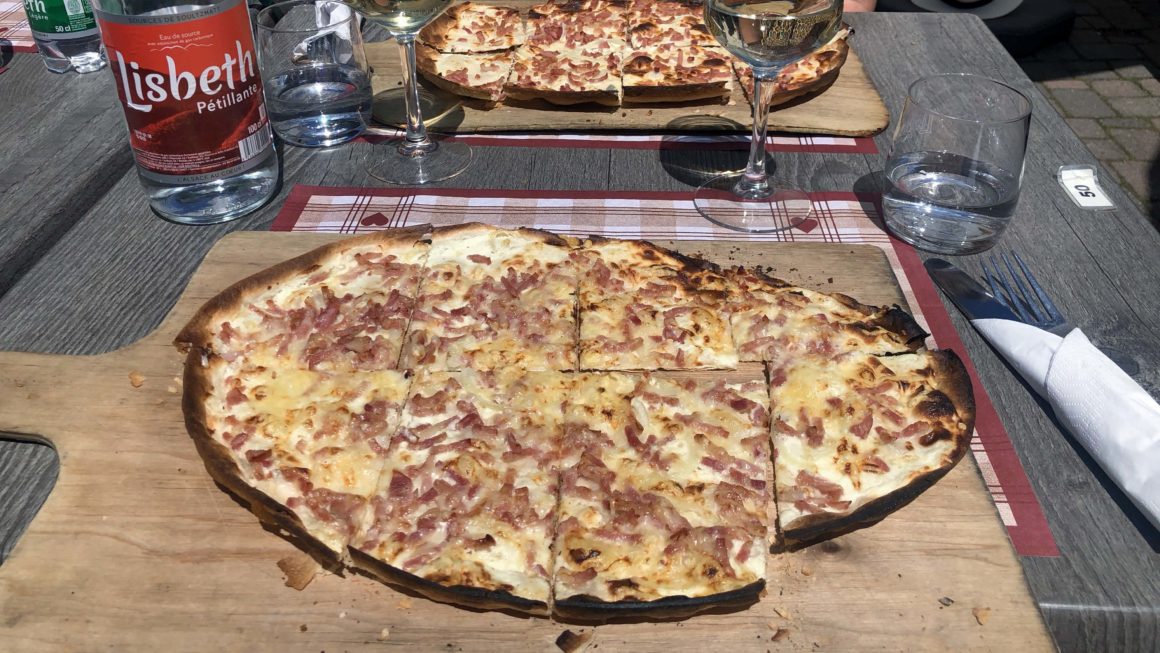 Let's get the wine…
The disadvantage of our bike route is that we have to go back the whole way. This is because Alsace is a geographically narrow wine region, with most villages positioned close to the motorway. Luckily the way back is mostly downhill.
Before we drive to our next hotel, we have to drive past the wineries. Before we drive to our next hotel, we have to drive past the wineries. There are boxes of wine with our name on them (literally) waiting for us.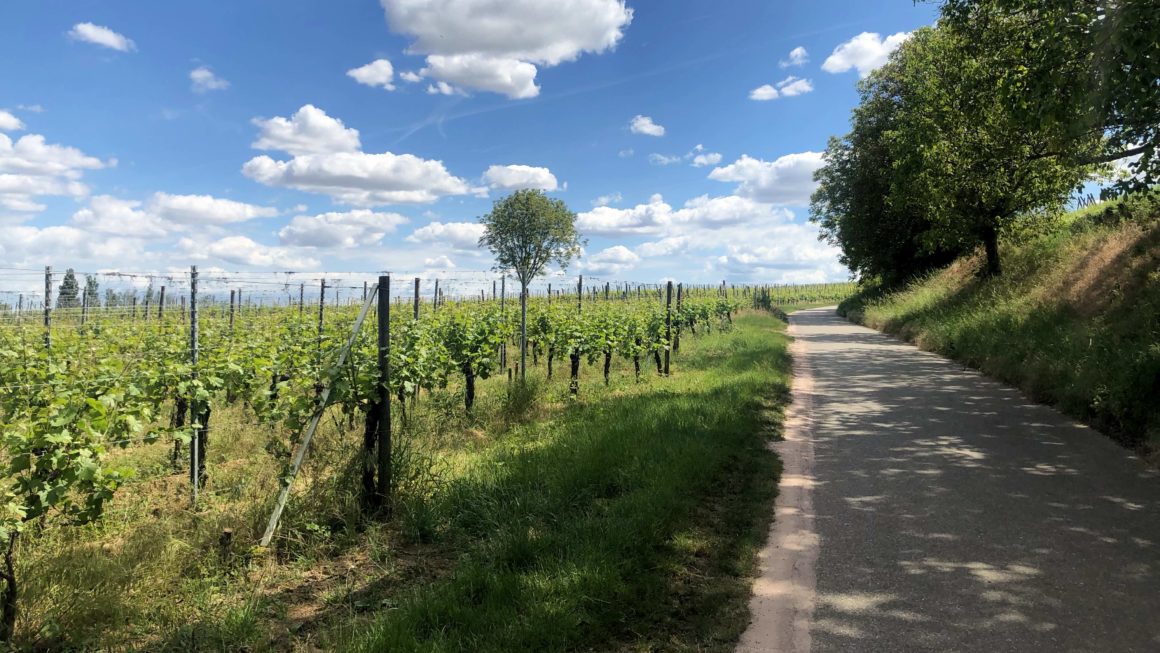 Hôtel-Restaurant Les Hortensias
Our second hotel is in Barr: Hôtel-Restaurant Les Hortensias. A stately property with a lovely swimming pool. The ideal place to cool off for a while. Afterwards, a Pinot Noir is brought out. Although it's a little too cold, the day is now complete.
Unfortunately, the hotel rooms are a bit less complete and not very sound-proof. Luckily the bike ride, along with all the food and the wine has exhausted us. We're falling asleep quickly.
Wine cellars in Mittelbergheim
Not far from our hotel is the village of Mittelbergheim, where a lot of winemakers live. We read rave reviews about Albert Seltz, but find out that he only receives guests on Saturdays and by appointmentonly.
That's why we end up at Domaine Armand Gilg. There you can browse the cellars of the winery yourself. This testifies to a great deal of confidence in mankind, for we could tap a tasting glass of wine from one of the oak or steel barrels.
When we walk into the tasting room after our visit to the wine cellars, a friendly Frenchman comes straight away with two wine glasses. Also here we can taste an impressive number of different crémants, Rieslings, Gewurztraminers, Sylvaners, Muscats and Pinot Noirs for free.
By the way, the large amount of monocépages is typical of Alsace. Wines here usually consist of a single grape, which you see very little in the rest of France.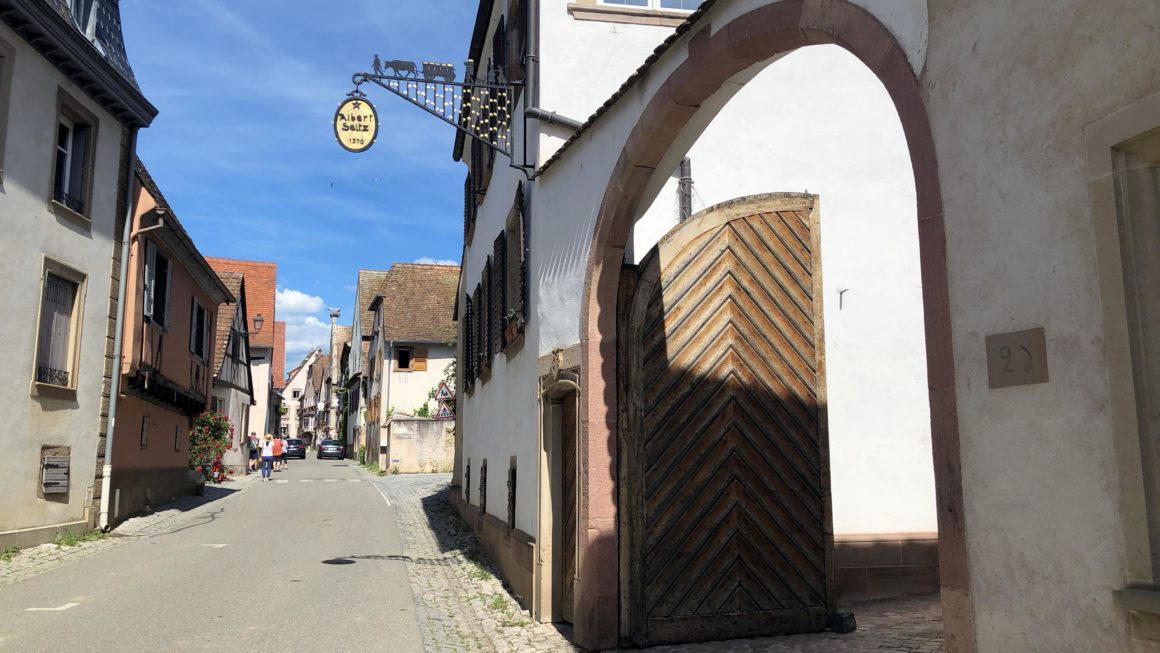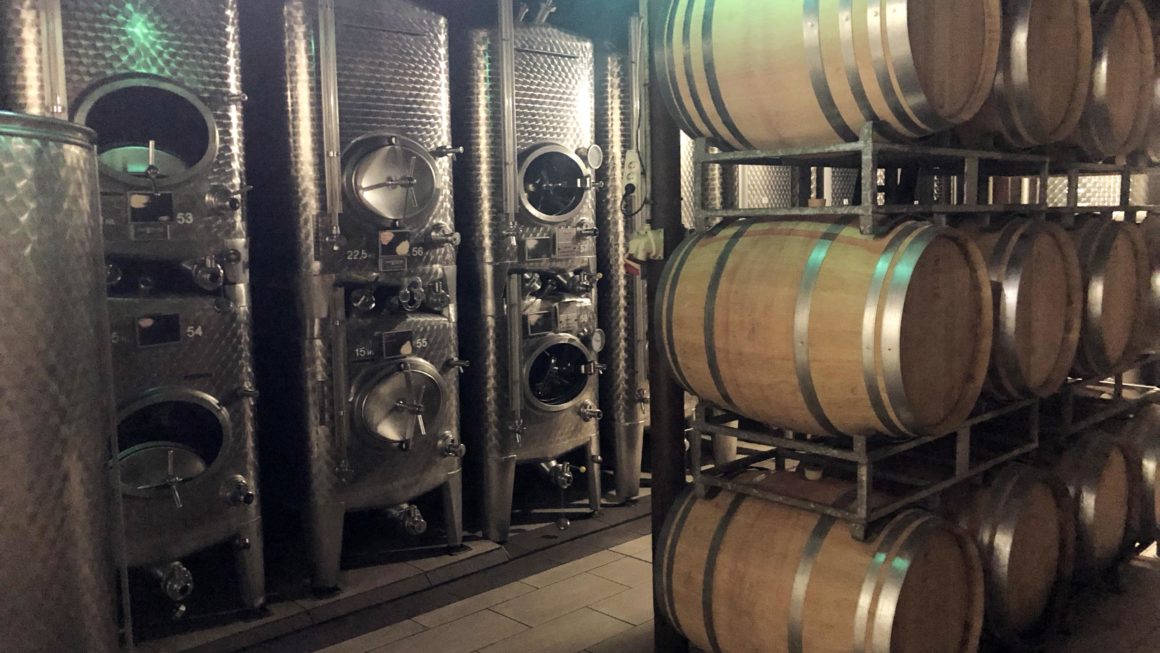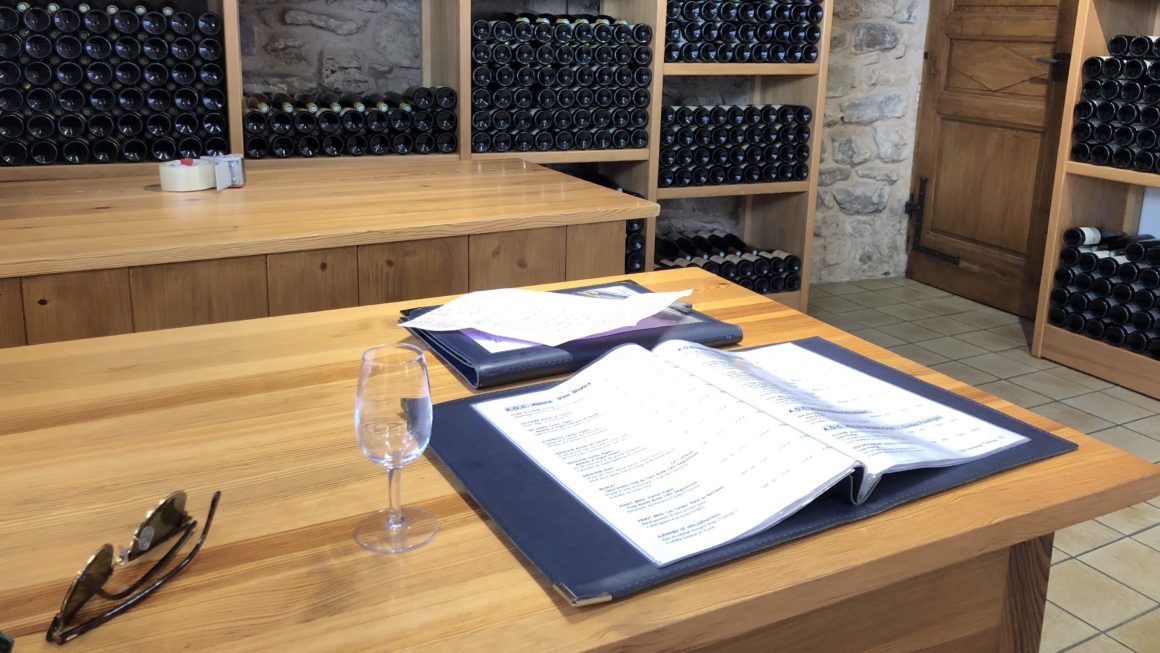 Hannong Hotel & Wine Bar in Strasbourg
Strasbourg is a vibrant city in the north of Alsace. And the final destination of our wine journey. We check in at Hannong Hotel & Wine Bar, which is right in the middle of the old town.
We park the Model 3 in the Kléber parking garage, which has the only two loading bays of the entire town centre. We can then contiue the next day with a full battery. Because of our stay at the hotel, we pay 18 euros for 24 hours. Without the hotel it would have cost us more than double.
The centre of Strasbourg is quite compact. So, it's easy to explore the city on foot. Although, we soon decide that a canal boat might be a better plan. It takes us straight through the historic centre, past impressive buildings, on to the European Parliament.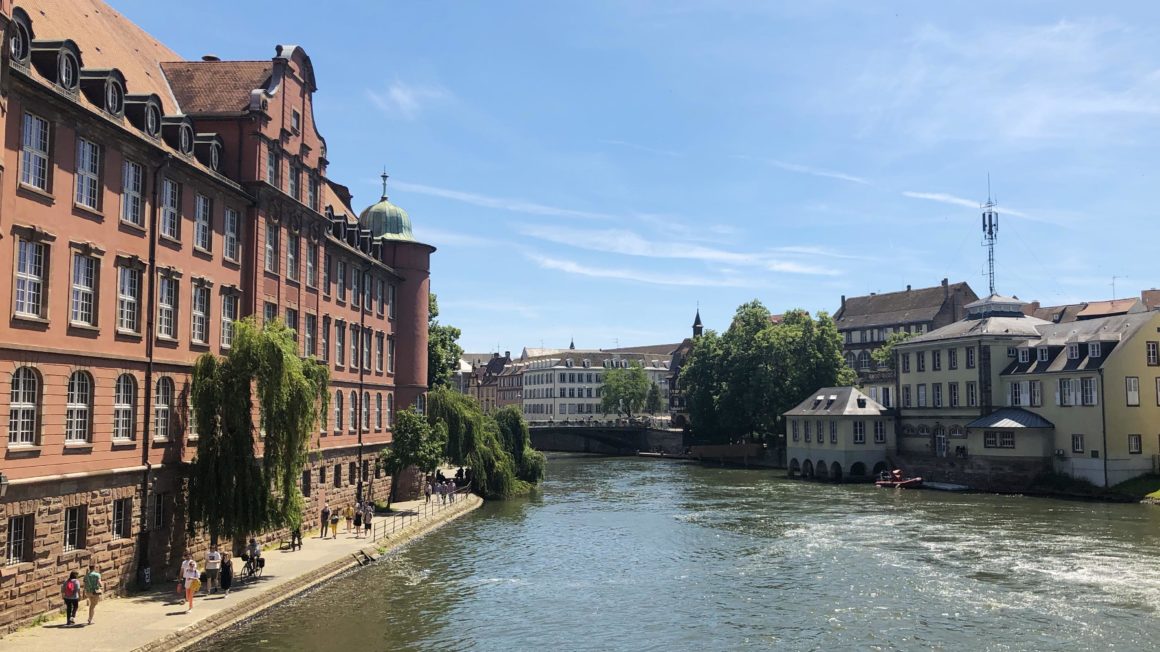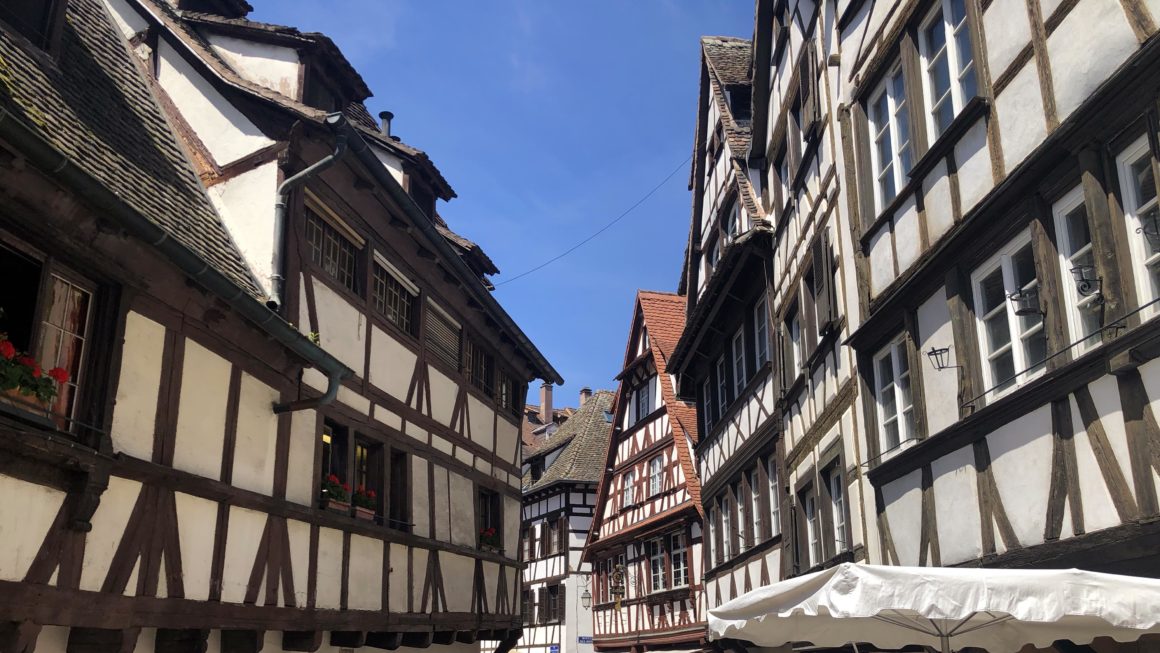 The architecture in Strasbourg is special. Through various wars and annexations, the city has changed hands between the Germans and the French several times. It is noticeable in the different architectural styles. And in the communication with locals. They can speak in French, German or Alsatian. (Though we haven't tried the latter.)
It's worth considering a special city pass. It allows you to join a tour boat and visit nine places of interest in the city. Including the imposing Notre-Dame Cathedral, which offers a panoramic view of Strasbourg.